Particle Size Analysis
We have over 25 years experience in particle size analysis, and have analysed more than 20,000 samples by laser diffraction, including sediments, soils, natural water, sludge, construction materials, woodchip pellets and unknown powders and suspensions. Our services include:
Sizing in the range 0.017 µm to 2 mm using a Coulter LS13320 laser diffraction particle size analyser using ISO13320 protocols. Samples are run in an aqueous solution (water or alcohol for sensitive materials), using large or small fluid modules (allowing samples as small as 0.001 g to be analysed).
Dry and wet sieving in the range 63 µm to 63 cm, using British Standard or bespoke size intervals.
If required, merging of laser diffraction and sieving data to produce a combined distribution, using BS1377, NMBAQC, RSMP or other bespoke protocols. We are able to match a clients pre-existing sample preparation and reporting specification to ensure continuity of longer term datasets.
Reporting in a wide variety of formats, including in-house GRADISTAT software, and classified in terms of our own classification scheme (Blott and Pye, 2012, see below), or historical schemes (such as the Folk scheme).
We are members of the NMBAQC Scheme, and validated by the MMO for particle size analysis of marine sediments
For all enquiries, please contact us by email or on +44 (0)121 506 9067.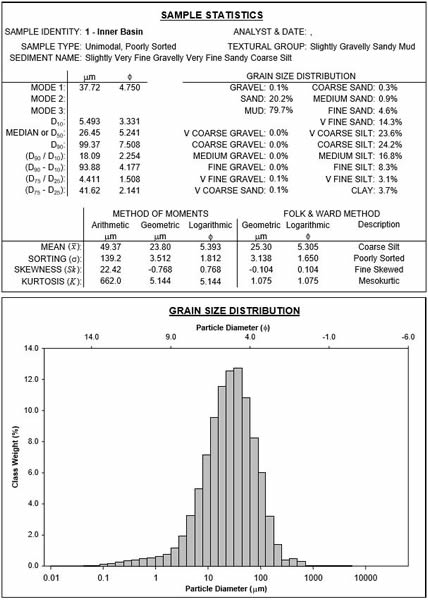 Particle Size Classification
As part of our strategic research we have developed a new particle size classification (PSC) and a new particle size distribution classification (PSDC, frequently referred to as 'texture') with new systems of nomenclature for each. A computer program, in Microsoft Excel 2007/2010 format, is freely available which automatically classifies sediment or soil samples in terms of the percentages of gravel, sand and mud (GSM) or sand, silt and clay (SSC). Full details of the classification scheme are currently in press.
Click the following links to download the classification schemes and software: